On Wednesday 9th, October 2013, Nigeria's #1 shopping destination, [rad-hl]Jumia[/rad-hl] won "The Best New Retail Launch of the Year" award at the 2013 World Retail Congress in Paris. Through this distinction, JUMIA became the first African company to ever win the most important retail award worldwide.
This is such an incredible achievement and a giant stride for our very own Jumia who clinched this award ahead of other great retail outlets around the world such as Presso, t.riciclo, Hedonism Wines, Quem disse, Berenice and Zalora all nominated in the same category.
In the words of Ian McGarrigle, chairman of the [rad-hl]World Retail Congress[/rad-hl]; "We are delighted with the wide international reach of this year's winners and that for the first time, we are presenting an award to an African retailer." According to World Retail Congress's jury, JUMIA sets the highest benchmark when it comes to retailing in Africa: their excellence in online marketing, IT and operations are key drivers for JUMIA's sharp growth rates and the company's rising brand awareness throughout the whole of Africa.
This event which held from 7th – 9th of October was attended by industry leaders from eBay, Tesco, Carrefour, Boots, ASOS etc. Previous winners include top brands such as ASOS, Migros, NikeTown, Woolworths & Zappos.com.
According to our very own Tunde Kehinde and Raphael Afaedor, co-founders of Jumia Nigeria: "We owe this landmark fete to the Nigerian market who since day one supported us all the way through the very encouraging feedback and patronage; we clearly wouldn't be honored this way without them. This also shows that Jumia Nigeria has risen beyond the ranks and has gone far beyond a start-up company with even more greater heights yet to be achieved. Amazingly, recently there was a poll by an organization for start-ups in Nigeria and Jumia was out of that list, some more proof that the market and industry players have come to recognize our position and the impact we have made in this market. There are bigger plans for our customers and this will remain our focus".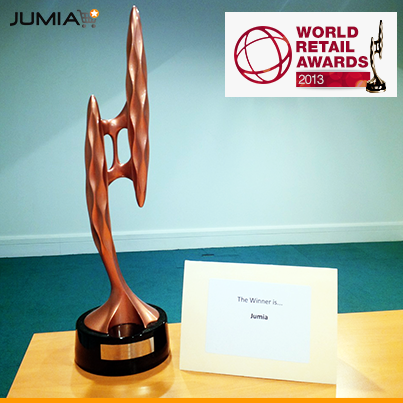 While receiving the accolade, Jeremy Hodara, Founder & Managing Director (AIH) in his remark said "This is a historic moment to us and I hope, also for the whole of Africa. When we started JUMIA last year we had the goal to enable safe, convenient and stress-free shopping experiences in Nigeria. Now one year later, we deliver products to hundred thousands of customers in over six countries every day. Only thanks to our incredible teams and partners, who made online shopping in Africa easy. This award makes us incredibly proud and reinforces us in what we do. We are number one in Nigeria now and we will continue to grow and deliver our products all across Africa."
A Big Congratulations to the Jumia team for a job well done and making Nigeria & Africa proud.